These Halloween drink ideas are everything you need, whether you're looking for kid-friendly mocktails or adult cocktails. Drink up, witches!
Jack O' Lantern Slushies
These fun jack o' lantern kool-aid slushies served in DIY jack–o-lantern cups are perfect for classroom Halloween parties with kids of all ages. Make sure to make extras so the kids can have seconds!

Vampire Blood White Hot Chocolate
Homemade strawberry syrup and white hot chocolate create the hottest drink around – vampire blood white hot chocolate! Don't forget to top it with lots of whipped cream!

Halloween Drink Station
Kool-aid, ginger ale and dried ice combine to create a spooky Halloween drink station. Wait until your guests arrive to add the dry ice for a spooktactular presentation!

Jack O' Lantern Cocktail
If you're throwing an adult soiree, these jack-o-lantern cocktails will hit the spot. Rum, 151, and orange liqueur combine with orange juice, lemonade and grenadine for a boozy Halloween treat.

Candy Corn Jell-O Shots
Gelatin, sweetened condensed milk and vodka create these layered Jell-O shots that your party guests will love! Make extras – these will go fast!

Floating Eyeball Jell-O Shots
For a non-alcoholic twist on the Jell-O shot, serve clear Jell-O shots with floating gummy eyeballs in the glasses. Since these are made of ginger ale, instead of vodka, kids and adults can enjoy this eye-opening treat!

Mad Scientist Hot Chocolate
Served in beakers instead of glasses, this white chocolate hot chocolate is tinted green with green candy melts. Topped with whipped cream and sprinkles, it's perfect for a mad scientist party!

Vampire Ice Cream Float
Red soda and strawberry syrup are the basis of this red vampire shake. Don't forget to garnish it with some plastic vampire teeth and a patterned paper straw.

Pumpkin Pie Shots
Halloween is the start of pumpkin season and if you're looking for a delicious pumpkin pie inspired drink, look no further than these pumpkin pie shots.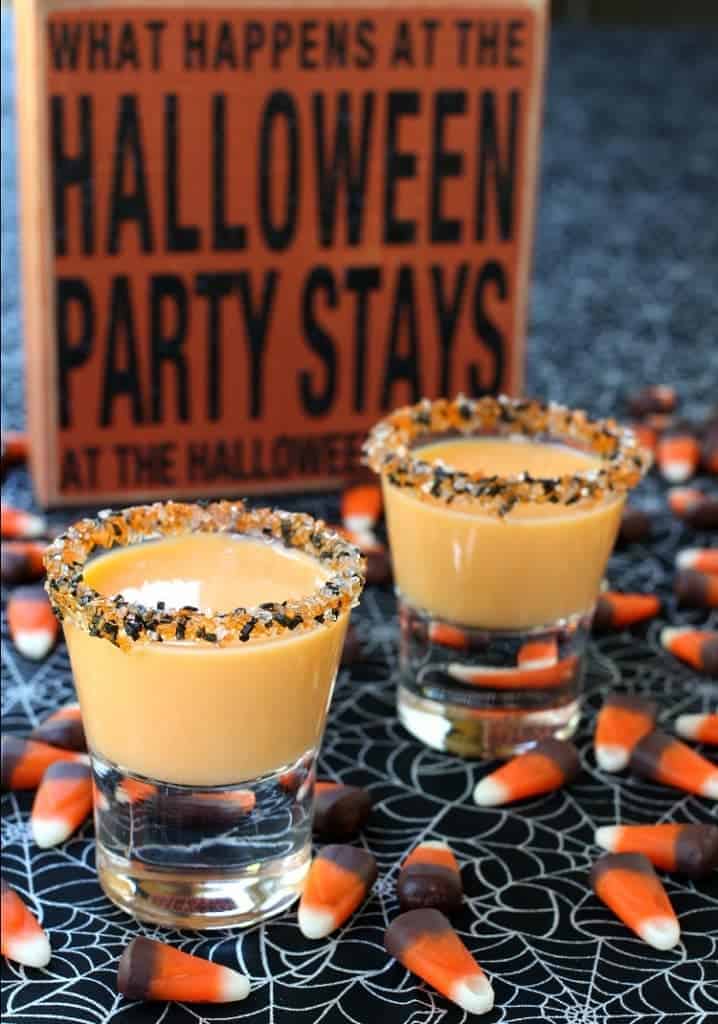 Corpse Reviver Cocktail
Spooky glasses and a hint of absinthe are the basics of this corpse reviver cocktail. Watch out for the zombies!

Chilled Corpse Colada
Pineapple, coconut cream, half and half and some rum combine to create this corpse colada drink. Rim each glass in Karo syrup dyed red for an even creepier presenation.

Toxic Punch Recipe
Perfect for a teen party, this toxic Halloween punch recipe is the perfect gross green color. Serve in a skull drink dispenser for a spooky touch.

Whether you're looking for a spooky hot chocolate recipe, a fun Jell-O shot, or a punch recipe that's perfect for teens, this collection of Halloween drink recipes is such to please.
Related Posts
Cinco de Mayo Recipes
House of Ideas
Easter Bunny Themed Treat Ideas 2019
Katie Dixon
Super Bowl 2019 Recipes and Food Ideas
House of Ideas
Super Bowl LIII (2019) Party Ideas: Desserts That Will Hit the Sweet Spot
Katie Dixon