Whether you're looking for new ways to decorate your tree or adding an additional tree to your house, you'll find lots of great ideas here! From traditional looks to shabby chic and everything in between, these beautiful trees will add lots of color and warmth to any room.
Winter Woodland Christmas Tree Idea
This gorgeous rustic Christmas tree is full of DIY burlap ruffles, glistening silver glitter and snowy white owls.
Glam Metallic Farmhouse Christmas Tree Idea
Sparkly copper ornaments and pops of aqua light up this glam metallic farmhouse Christmas tree. It's a look right out of magazines, but is easy to achieve in your own home too.
Polar Post Letters to Santa Christmas Tree Idea
This tree is totally Santa inspired and even has a true naughty or nice list that you can print out at home to use as a garland.
Black and White Buffalo Plaid Farmhouse Christmas Tree Idea
Create a farmhouse tree that would make Joanna Gaines swoon with this DIY black and white buffalo plaid tree design.
DIY Farmhouse Christmas Tree Idea (+ Youtube Tutorial)
Create a cute tabletop tree with your favorite ribbon, snow-tipped branches, pine cones, and some well-placed ornaments. The theme here is black and white, but you can use any color that works with your decor. Need more help pulling this look together? Use the YouTube video for inspiration!
Youtube Tutorial
Farmhouse Christmas Tree Decorating Idea
Home Tweet Home Christmas Tree Theme
Bring in the birds with this country chic Christmas tree idea. All you need is unfinished mini wood bird houses, robin's egg blue ornaments, pine cones, and ribbon.
Rustic Modern Turquoise Christmas Tree Decorating Idea
And now, for something completely different, and we mean different! Create a rustic modern tree by painting it turquoise, and finish the look with a variety of metal ornaments and gold bows.
Floral DIY Christmas Tree Decor Idea
Bring the beauty of spring flowers into your winter wonderland! This fresh idea starts with a pre-lit tree, and bunches of flower stems in every conceivable color. Just trim the stems and add them to the tree in a circular pattern.
Pom Pom Christmas Tree Decor Idea
Let's face it, pom poms are bright, colorful and fun! This simple design starts with a white tree and is covered with tons of pom poms in different shades and sizes. The perfect accent to any room.
Pink Vintage Christmas Tree Decor idea
Sometimes pink is just the right color for a room and here's an example of how that works! Take a tall white tree, add ornaments in a variety of pink shades, and finish it off with some bright-colored garland.
Believe in The Magic Christmas Dream Tree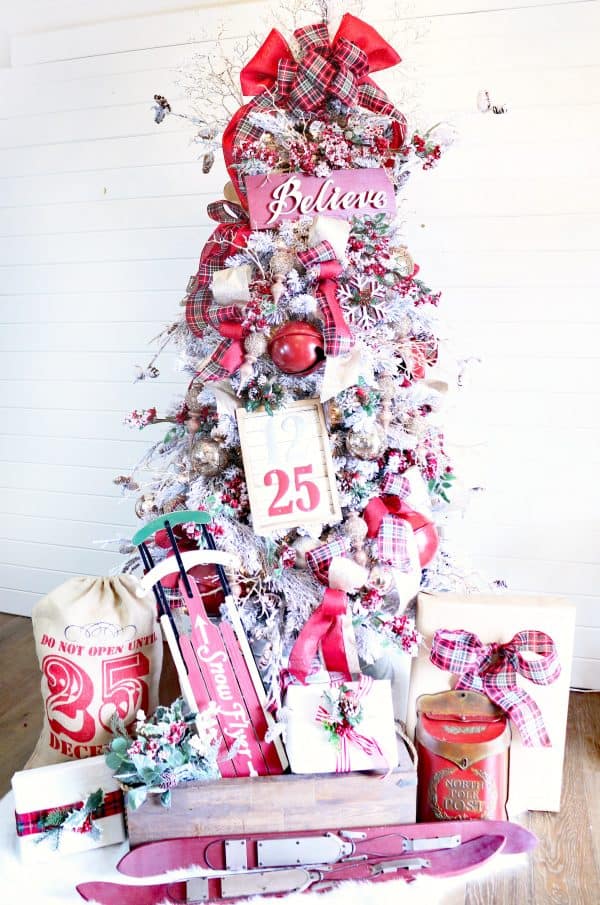 If space is limited and you've got a tall, thin tree, this design is perfect for you. Snow covered berries and branches, snowflakes and beautiful bows will make you believe in the magic of Christmas!
Be sure to check out Toni's Christmas tree decorating tools and supplies list, and expert decor tips & hacks.
Mrs Claus Cottage Christmas Tree Idea
If Mrs. Claus was going to decorate a tree, it might look like this! Bold red and white checked ribbon, plus winter berries and branches that are accented with ornaments and displayed with gifts and toys for the season.
Winter Wonderland Glam Christmas Tree idea
Create a winter wonderland with this fabulous tree! Include snow-covered pine branches, flowing ribbon with gold sparkles, and accents like snowflakes, skis, and skates.
Santa's Cabin in the Woods Christmas Tree Idea
Plaid, pine cones and pops of bright red, green and white make this tree a standout. Just add the reindeer and your cabin in the woods look is complete.
Jeweled Forest Christmas Tree Decorating Idea
Ribbons of green and garland from forest leaves create this dreamy look. Feathered bird ornaments and gilded cages make this a truly unique tree.
Shabby Chic Christmas Tree Design
Try a little shabby chic this holiday season. Just pick pretty pastels and vintage ornaments to complete the look.
Balsam Hill Colorful Christmas Tree Idea
Here's an idea that's a little un-traditional and full of color. Try bright oversized ornaments with snowflakes and ribbons to bring a little flair into any room.
Whimsical Christmas Tree Decorating Idea
This whimsical tree is full of sparkly red and green ornaments, It's over the top and full of Christmas cheer.
Buffalo Check Christmas Tree Decor Idea
This buffalo check Christmas tree is filled with natural wood ornaments, pinecones berries and more.
Pink and Gold Christmas Tree Decorating Idea
Think pink! This pink flocked tree creates a perfect palette for a truly one-of-a-kind Christmas tree.
Plaid Christmas Tree Decor Idea
This flocked tree is full of red and gold touches with large red buildings that double as ornaments. It's a classic farmhouse tree – with a twist.
Whimsical BoHo Christmas Tree Decorating Idea
This formerly green tree turned snow covered with a little spray paint! Boho ornaments finished out the look.
Colorful Christmas Dream Tree Decorating Idea
Pink, turquoise and gold ornaments are alongside llamas for a colorful Christmas tree that you won't want to take down.
Rustic Reindeer Christmas Tree Idea
Rustic burlap touches and leaping reindeer ornaments adorn this gorgeous tree.
No matter what your style, these DIY Christmas trees are sure to delight. Use one for inspiration, but don't forget to put your own special DIY twist on it.
Related Posts
DIY Christmas Garland Ideas
How to make wreath garlands, felted garlands, ball garlands, and other DIY garlands for Christmas tree and home decoration.
Katie Dixon
DIY Christmas Tree Decorating Ideas
20+ Christmas Tree Decoration themes and ideas including vintage, rustic, farmhouse, and classic winter wonderland.
Katie Dixon