If you're looking for a one-of-a-kind way to decorate your house for Halloween, look to these DIY Halloween crafts! From giftable decorations that are perfect to give to family and friends, to home decor that you can make on your own with just a few products and a little bit of time, we've got all the ideas you need to create fun decor that's personal to you!
Skull Themed Halloween Cups from Giggles Galore
These skull decals made with a cutting machine and vinyl are an easy way to dress up a dollar store wine glass. Best of all, you can even personalize them further with a monogram like Mariah did, making them amazing gifts for friends and neighbors.
Book Page Bats from Dukes and Duchesses
A cutting machine makes these book page bats simple, but if you don't have one, they're easy to replicate with a pair of scissors! Use a thrifted book, such as this dictionary that Randi found and you'll have a simple craft project that makes a big impact in just a few minutes.
DIY Jack-o-Lantern Candy Jar and EEK Letters from the Celebration Shoppe
A little black vinyl turns a dollar tree candy jar into a cute jack-o-lantern and some black paint turns three little letters into a spooky EEK! Place these in your entry way like Kim from the Celebration Shoppe and you'll be able to welcome guests to your home in an adorable way.
Spooky Halloween Lanterns from Michelle's Party Plan-It
Some regular lanterns transform into super spooky Halloween lanterns with a little mod podge and some spiderwebs. A little bit of metallic paint can give the lanterns an aged look too. Set a battery operated candle inside for a flickering glow, just like Michelle's.
Halloween Gallery Wall from Design Dazzle
Gallery walls are one of the hottest trends around and this Halloween themed gallery wall from Toni is a super simple way to pull the Halloween spirit into your home. One major bonus is that some elements, like the frames, can be reused holiday after holiday.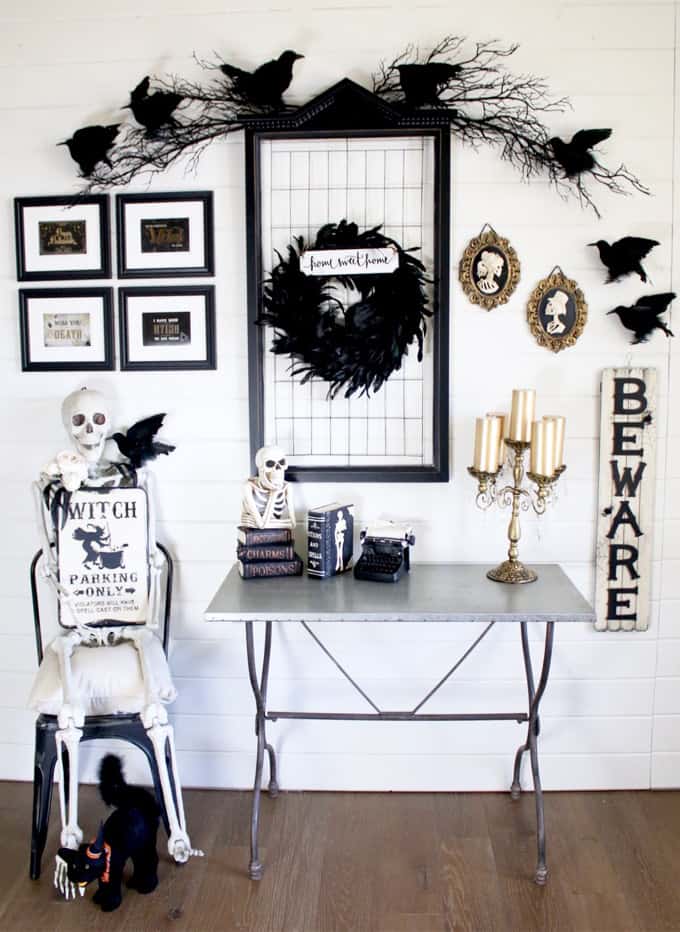 Pumpkin Treat Jars from Make It & Love It
Whether you're planning on gifting these jars to friends and neighbors or just using them as decorations in your house, these small pumpkin treat jars made with baby food jars come together with just a few supplies and a few minutes of effort.
Sophisticated Halloween Decor from Pink Peppermint Design
A black and white palette with just a touch of orange means these decorating ideas can match any home's decorating scheme. If you're looking for something with a little sophistication and not a big scare factor, this look from Tammy will fit the bill. If you want just a bit of a creepy touch, don't forget to include the spiders!
Fall Themed Mason Jars from Sugar Bee Crafts
If you prefer to decorate for fall, rather than strictly Halloween, these fall themed mason jars from Mandy are ideal. With a jar, a little paint and some leaf cutouts, you'll be able to create these one-of-a-kind giftable home decor.
Halloween Specimen Art From Tauni Everett
This cute art piece only takes a few products and a few minutes to create so let's get crafty! Cut some plastic cauldrons in half and glue them to a poster board or foam core. Fill with a little tissue paper to look like fire or a potion and you've got a cute 3D display.
Related Posts
DIY Leprechaun Traps for St. Patrick's Day
House of Ideas
DIY St. Patrick's Day 2019 Crafts Ideas & Project Tutorials
Katie Dixon
Cricut Vinyl Tutorials for Beginners
House of Ideas
Easter 2019 Cricut Crafts & DIY Projects
Hop to it and make these Easter Cricut crafts and DIY projects!
Katie Dixon
Cricut Explore Air 2 Reviews: Choosing the Right Cricut Machine
Katie Dixon
What Is the Best Cricut Machine: Cricut Maker Vs Cricut Explore Air 2
Katie Dixon
Valentine's Day 2019 Cricut Crafts Ideas & DIY Projects
DIY Valentines Cricut Crafts Ideas and projects you can make at home with the Cricut Maker, Cricut Explore Air 2, Easypress, and Cricut's Design Space for inspiration.
Katie Dixon
How to Make Safe Slime with No Borax
Learn why borax can be bad for kids, and make safe slime at home with our borax-free step-by-step instruction recipes.
Katie Dixon